Coconut Fiber Dryer Introduction
Considering the characteristics of coconut fiber, such as flammability, easy agglomeration and easily wrapping the slag, Dongding designed and developed a new type of coconut fiber (palm fiber) drying equipment. A series of technologies and processes were adopted to solve the problem, so as to ensure good drying effect and cleanliness.
In addition, the coconut fiber dryer can be directly connected with the coconut shell opening separator, including sorting and drying, the whole coconut fiber process can be completed in 25-30 minutes, which ensures energy saving, environmental protection, and the quality of final product are guaranteed.
The coconut fiber dryer is mainly composed of hot air stove, feed conveyor, rotary drum dryer, discharge conveyor, dust collector, and power distribution cabinet; after sorted, the coconut fiber enters the dryer, when the evenly distributed gear mixing device in the drum is turned, it is evenly dispersed and fully contacted with the hot air, quickly transfers heat, dried, then discharged to the outlet of the drum.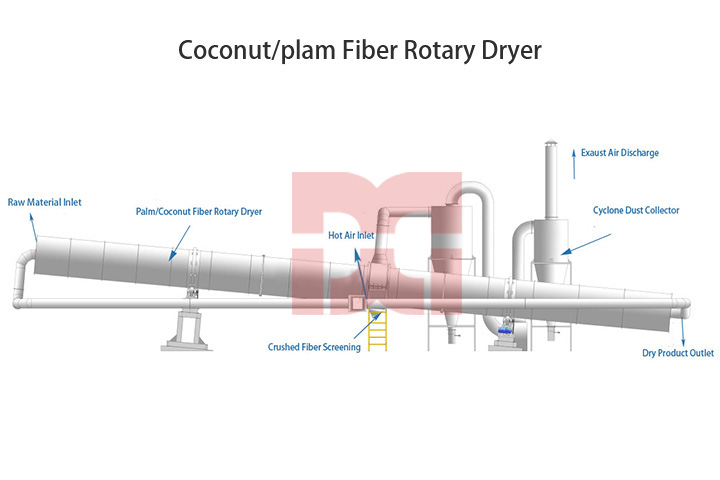 1. Automatic control ensures that the drying process is even and stable;
2. Unique heating mode, low temperature and no open fire, ensuring the color, strength and flexibility of the dried coconut fiber unchanged, and safe operation;
3. Equipped with a residue cleaning device, residue in coconut fiber is refined and cleaned in the drying process, and the final coconut fiber is purer;
4. Good Drying effect. Various material use various combinations of circumferential lifting;
5. The dust removal equipment has a long service life. It can be used for continuous production of the next process;
6. The required final moisture can be easily adjusted according to user requirements;
7. Multiple Heating Choices, such as: Diesel, natural gas, rice husk;