Coconut palm coir Dryer Overview
Coconut Palm Coir Dryer Introduction

The powdered material formed after the crushing of the coconut shell possesses good air permeability and water retention as well as slow and natural decomposition, and has a long life cycle. At the same time, it has low storage and transportation costs and is an environmentally friendly product. However, the coconut shell crushed material must maintain a certain amount of moisture during briquetting and storage and transportation. Dongding Machinery has developed a set of integrated equipment for dewatering and drying briquetting of coconut shell crushed material according to processing requirements. This system has the advantages of energy saving and low consumption technology. , Our company through the precise temperature control and scientific sealing technology to achieve a safe and efficient production process, clean and environmentally friendly.

Coconut Palm Coir Dryer Working Principle

First, the material is Crushed by a crushing machine, and the pulverized material is fed to a screw extrusion dehydrator through a screw conveyor, after which the moisture content can be controlled below 60% (it is not ecessary if the initial moisture is below 60%), then material was sent into the rotary drum by conveyor belt or elecator, when installation, the drum need have a 3-5 degree inclination to ensure the materials move from the upper part to lower parts smoothly, in upper part, there is a birck heating stove or coal gas producer, producing the hot air into dryer, and materials and hot air are contacted completely in the rotary drum, then wet materials are dried. The finished product discharge from the drum and cyclone is sent by the belt conveyor. After the heat exchange, the exhaust gas containing a large amount of water vapor is removed by the cyclone and discharged.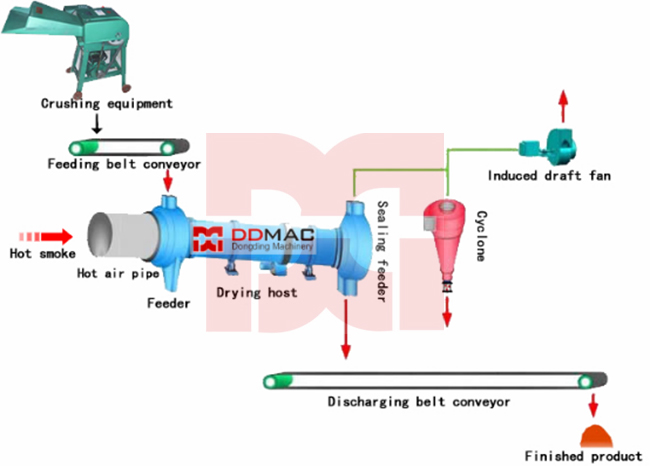 Coconut Palm Coir Dryer Advantages

1. Automatic control ensures that the drying process is even and stable.
2. Dryer thermal efficiency up to 70%.
3. The use of tail-end drive makes the transmission more stable and reliable; completely changing the rotation of the support wheel often affects the production phenomenon.
4. The single-layer drum dryer and the three-layer rotary drum dryer can be freely selected according to the site scale.
5. Drying effect is good. Various material use various combinations of circumferential lifting.
6. The required final humidity index can be easily adjusted according to user requirements.
7. The dust removal equipment has a long service life. It can be used for continuous production of the next process.
8. The system can be equipped with various heating source according to the user's requirment.
Product parameter

Device Specification

DDJG1210

DDJG1410

DDJG1610

DDJG2010/3

DDJG2210/3

DDJG2510/3

DDJG2512/3

DDJG2912/3

Daily Processing Capacity(t/d)

33.6

40.8

58.9

131.4

145.0

167.7

204.0

247.0

Daily Output(t/d)

15.6

19.2

27.7

61.8

68.2

78.9

96.0

116.2

Water Evaporation Capacity (t/h)

0.75

0.90

1.30

2.90

3.20

3.70

4.50

5.45

Raw Material Water Content(%)

60±5%

Dried Material Water Content(%)

12-15%(adjustable)

Drying Temperature (℃)

350-550℃

Total Weight(kg)

32

40

55

95

100

125

145

165

Plant Area(m2)

15000

17000

21500

26500

28500

370000

41000

45500

Device Specification

5m*14m

5m*14m

6m*16m

8m*16m

8m*16m

10m*16m

10m*18m

10m*20m
we can also provide customized models according to your needs
If you want to know more about Coconut palm coir Dryer, please leave a message or send an email to Dongding@zzddjt.com