Introduction
The belt press (also called a belt press filter ) is an industrial machine, used for solid/liquid separation processes. Our belt press dehydrator is suitable for kinds of brewers spent grains, coco peat, coconut fiber, cassava residue, Bean Dregs, soybean residue, potato sludge, kitchen waste, sludge dewatering,
etc.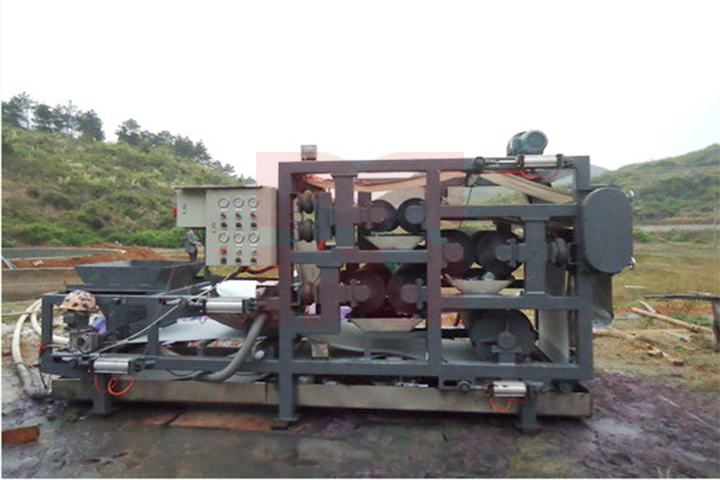 Working Principle
The raw material, passing through the distributor, is pre-pressed and dehydrated in the wedge area, and then further squeezed and dehydrated in the large area low pressure drainage area composed of porous drainage rollers. Then, the raw material with a certain degree of dryness is pressed by three sets of high-intensity squeezing, i.e. roller I, roller II and roller III. Then the raw material with extremely low water content
i
s pressed and dehydrated again by the mesh belt at the discharge port. Finally the dry filter cake is discharged. It basically meets the requirements of major varieties for moisture content, and the entire process is subject to extrusion and shear forces.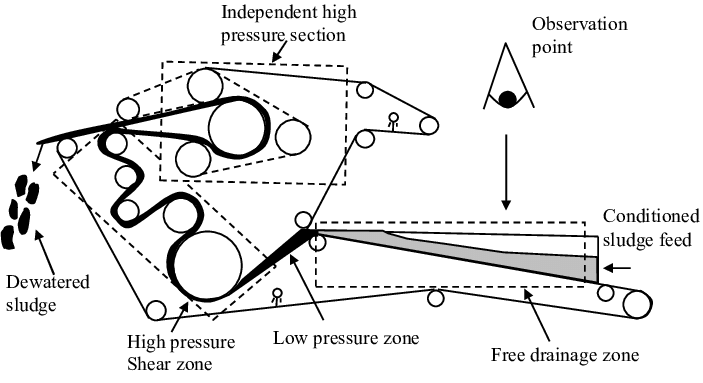 Advantage
1. Low power consumption and large processing capacity;
2. Simple operation and management, easy to maintain.
3. Small size and large processing capacity.
4. High degree of automation and continuous production;
5. Low noise and long service life;
6. Few auxiliary equipment, economical and reliable, wide application.
Technical Parameter
Model

DDGT750P3

DDGT1000P3

DDGT1500P3

DDGT2000P3

Dimension(mm)

5200*1650*2300

5200*1900*2300

5200*2400*2400

5200*2900*2400

Main drive power(kw)

3

3

5.5

7.5

Feeder power(kw)

0.75

0.75

1.1

1.5

Cleaning pump power(kw)

2.2

3

4

5.5

Cleaning pump flow(m3/h)

4

5

9

12

Weight (kg)

4000

4000

6000

8000

Compressed air pressure

0.3—0.8Mpa

Air consumption

0.1m3/h

Total Power

8

9

13

17

Belt speed

2-----8m/min

Bandwidth(mm)

750

1000

1500

2000

Feeder height(mm)

1000

1000

1100

1200

Capacity(m3/h)

3---4

4---5

5-----8

8----12

Final moisture

45-------60%

Note:DDGT on behalf of DONGDING roller press, 750-2000 on behalf of Bandwidth, P on behalf of roller, 3 on behalf of the number of the rollers.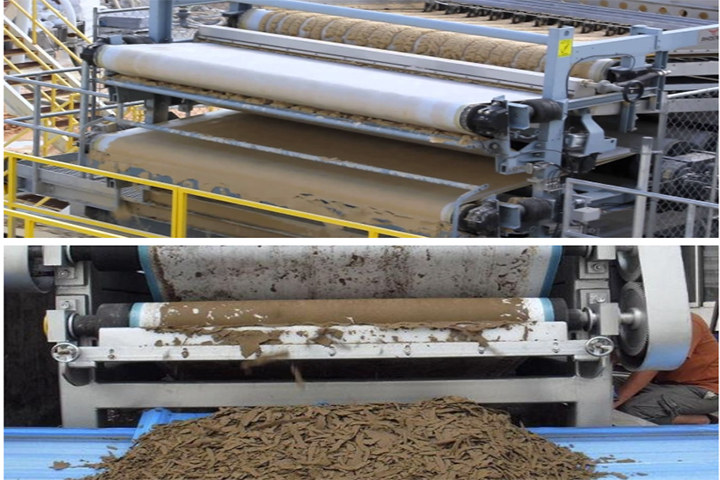 If you want to know more about Belt Press, please leave a message or send an email to Dongding@zzddjt.com
Last page:None.
Next page:None.