Bagasse Rotary Dryer Introduction
Bagasse refers to sugarcane granular waste left after crushing and pressing. There are 2 to 3 tons of bagasse to produce one ton of sucrose. Bagasse is rich in cellulose, and less lignin, so bagasse is great fiber material. Fresh bagasse is irregular loose particles, low density, poor combustion characteristics, inconvenient to transport, storage and use. After drying the density, durability, combustion characteristics of bagasse will be improved, and easier to transport and storage. The dry cane sugar residues is good biomass energy.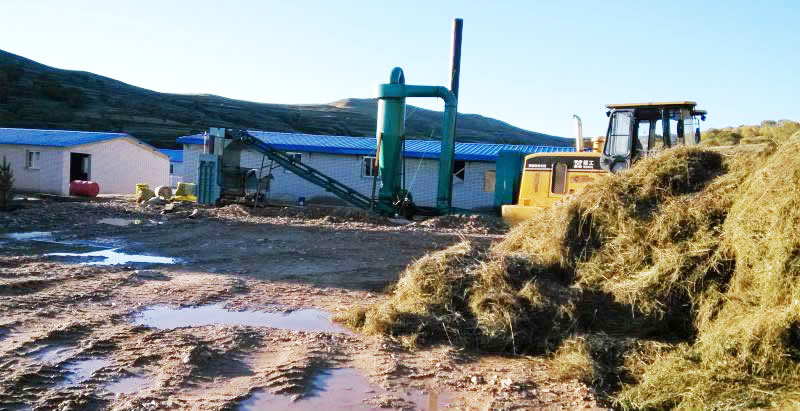 Sugarcane bagasse rotary Dryer Working Principle
Dongding Drying Equipment Bagasse Dryer Production Line consists of heat source, feeder,single cylinder drum drying system, discharge machine, induced draft fan, unloader and power distribution Cabinet, smashing system, packing system and other components.
After a certain degree of dehydration and scattering, bagasse enters into the drying roller through the material feeder. Under the stirring of the lifting plates and shoveling plates that distribute evenly inside the roller, the sugar cane bagasse scatter evenly and contacts with hot air sufficiently in the drying area. This speeds up the drying heat transfer and mass transfer. Wet air is pumped by air-inducing device, which avoids material from being wet again.
Bagasse Dryer Machine Advantages
1. It has high mechanization degree, high production capacity and continuous operation.
2. The structure of dryer is excellent, simple, easy operation.
3. Low failure rate, low maintenance cost and low power consumption.
4. Good uniformity , rare delicacy after drying.
5. Use frequency conversion to control material flow, which can be easily adjusted according to the needs of users.
Bagasse Three-layer Rotary Drum Dryer Technical Parameter
Specification

Capacity
(T/D)

Initial Moisture
(%)

Final Moisture
(%)

Total Power
(kw)

Floor Area
(m2)

DDSG2010/3

62.5

60±5

≤12

78

8m*18m

DDSG2010/3

70.5

60±5

≤12

85

8m*18m

DDSG2010/3

83.5

60±5

≤12

110

10m*18m

DDSG2010/3

108.0

60±5

≤12

125

10m*22m

DDSG2010/3

120.0

60±5

≤12

135

10m*25m

DDSG2010/3

150.0

60±5

≤12

160

10m*30m
We also provided customized models.