Feldspar Powder Rotary Dryer Overview
Feldspar Powder Rotary Dryer Introduce
Feldspar is usually purified before put into use.
The FWLDSPAR PURIFICATION is divided into 7 steps:
Crushing-Slurry washing-Classifying-Drying-Iron separating-Purification-Screening.
For the drying process, the professional feldspar powder rotary dryer is the best choice.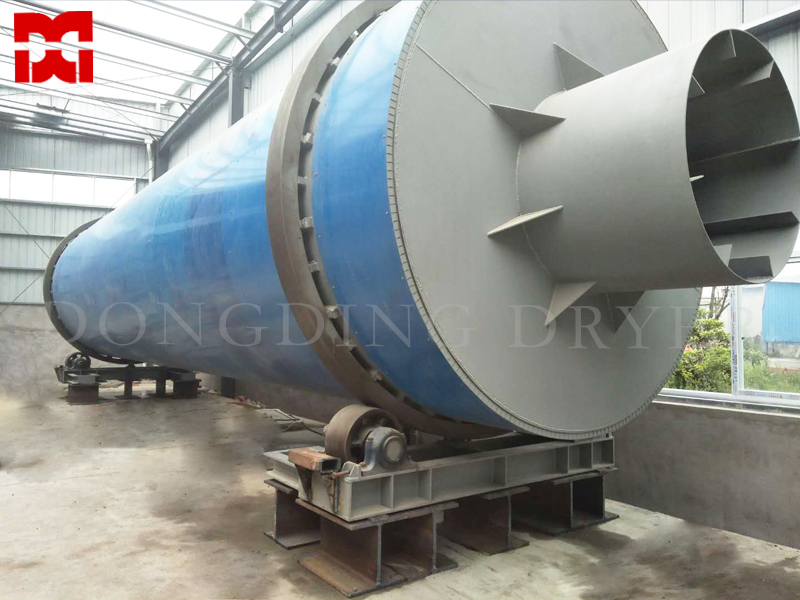 Feldspar Powder Rotary Dryer Working Principle
Feldspar powder rotary dryer uses 3-pass rotary drum dryer. Internal cylinder, middle cylinder and outer cylinder form a since the insulation structure. Special thermal design reduces wind tunnel heat loss and increase the heat exchange area, having a good energy saving effect. The feldspar powder slurry is fed into the inner layer by the feeding device to achieve downstream drying. Under the lifting board and hot air flow, the material moves to the other end of the inner layer, and enters into the middle layer, begin upstream drying with the induced fan, then the material goes to the other end of the middle layer and falls into the outer layer. When the material that achieves the drying effect quickly moves out of the drum under the action of hot air.
Feldspar Powder Rotary Dryer Advantages
1.Thermal efficiency is as high as 80% (single cylinder dryer is only 35 percent).
2.Reduces workshop covered area, saves the project investment by about 40%.
3.The system is equipped with PLC control system and video monitoring system, with a high degree of automation and simple operation.
4.The hot flue gas directly contacts with the materials, sufficient heat exchange and high production capacity.
5.Low investment, low operating cost and and short investment recovery time.
Feldspar Powder Rotary Dryer Technical Parameter
Model
DDHG1208
DDHG1408
DDHG1610
DDHG2010/3
DDHG2210/3
DDHG2510/3
DDHG2512/3
DDHG2912/3
Input Capacity(t/d)
43.7
52.5
75.8
169
186.5
215.5
262.2
317.6
Output Capacity(t/d)
25.7
30.9
44.6
99.4
109.7
126.7
154.2
186.8
Vaporization(t/h)
0.75
0.9
1.3
2.9
3.2
3.7
4.5
5.45
Early moisture(%)
35-50%
Final moisture(%)
12-15%(adjustable)
Drying temperature
350-550℃
Total motor power(kw)
32
40
55
95
100
125
145
165
Total weight(kg)
15000
17000
21500
26500
28500
37000
41000
45500
Plant area(m)
5m*14m
5m*14m
6m*16m
8m*16m
8m*16m
10m*16m
10m*18m
10m*20m
Except above models, we also can supply special model according to your requirements.