Sand Rotary Dryer Overview
Sand Rotary Dryer Introduction
Sand rotary dryer (river sand dryer) uses 3-pass rotary drum dryer. Internal cylinder, middle cylinder and outer cylinder form a since the insulation structure. Special thermal design reduces wind tunnel heat loss and increase the heat exchange area, having a good energy saving effect. The sand dryer is used for drying sand, quartz sand, yellow sand, slag, clay and other raw materials, widely used in building materials, chemical industry, foundry industry, etc, can adapt to a variety of fuels such as coal, oil and gas.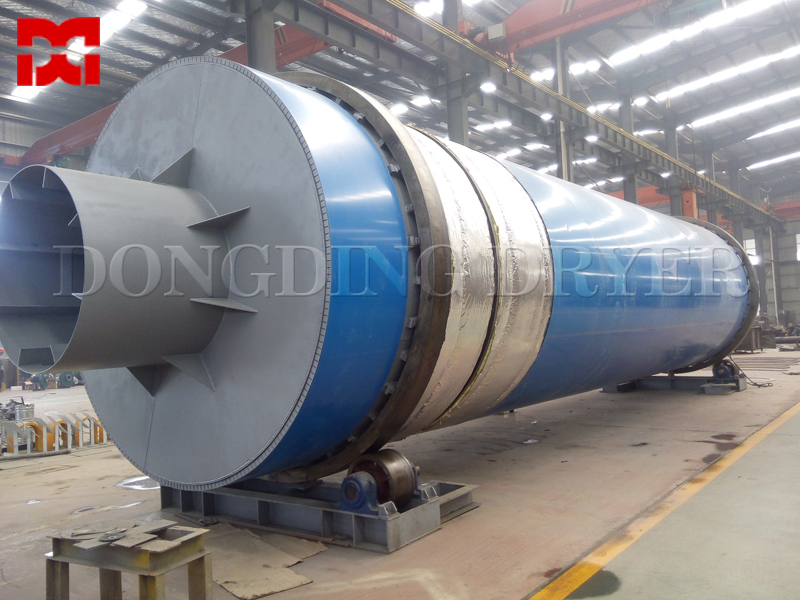 Sand Rotary Dryer Working Principle
Industrial sand dryers adopts direct flow type of heating with heat source from firing unit. The material to be dried is transported to the screw conveyor by the belt conveyor, then go into the rotary drum, after drying, most of the dry material will be discharged through the belt conveyor, the left material will go into the cyclone dust collector, where the dust will be collected, with the function of induced draft fan, the left material will discharged through the conveyor.
Dongding Sand Rotary Dryer
Features
1.Thermal efficiency is as high as 80% (single cylinder dryer is only 35 percent).
2.Reduces workshop covered area, saves the project investment by about 40%.
3.The system is equipped with PLC control system and video monitoring system, with a high degree of automation and simple operation.
4.The hot flue gas directly contacts with the materials, sufficient heat exchange and high production capacity.
5.Low investment, low operating cost and and short investment recovery time.
Sand Dryer Technical Parameter
| | | | | | |
| --- | --- | --- | --- | --- | --- |
| Model | Capacity(T/h) | Length (m) | Diameter (m) | Temperature(℃) | Motor Power(kw) |
| DD1208 | 1.9-2.4 | 8 | 1.2 | 600-750 | 7.5 |
| DD1210 | 2.4-3.0 | 10 | 1.2 | 600-750 | 7.5 |
| DD1612 | 4.5-5.7 | 12 | 1.6 | 600-750 | 15 |
| DD1812 | 6.5-8.1 | 12 | 1.8 | 600-750 | 18.5 |
| DD2212 | 9.7-12.2 | 12 | 2.2 | 600-750 | 22 |
| DD2418 | 17.4-21.7 | 18 | 2.4 | 600-750 | 37 |
| DD2420 | 19.3-24.1 | 20 | 2.4 | 600-750 | 45 |
| DD2624 | 27.2-34.0 | 24 | 2.6 | 600-750 | 55 |
| DD3020 | 30.1-37.7 | 20 | 3.0 | 600-750 | 75 |
| DD3225 | 42.9-53.6 | 25 | 3.2 | 600-750 | 90 |
| DD3628 | 60.8-76.0 | 28 | 3.6 | 600-750 | 160 |