Rotary Drum dryer Overview
Rotary Drum Dryer Introduction
Rotary drum dryer is a kind of direct heating method. This direct heating method is of high efficiency and low lost.
A rotary dryer is suitable to dry metallic and nonmetallic mineral, clay in cement industrial and coal slime in coal mine, etc. Rotary dryers can be widely used to dry various materials,
most commonly seen in the mineral industry for drying sands, limestone, stones and soil, ores, fertilizers, wood chips, coal, iron sulphate, filter cakes, sewage sludge, other sludge, etc.
The technical solutions are as varied as the materials. Depending on the raw material, application and water content involved, we design and manufacture the right rotary dryer system for customers.
In addition to a precisely controlled drying process, another important factor for drying biomass is a facility's cost-effectiveness – making use of free waste heat.
Dongding biomass drying systems are designed to be robust and easy to control.
Rotary Drum Dryer Working Principle
Firstly, wet material is crushed by the crushing machine(if needed), transported to the screw conveyor by the belt conveyor, then go into the rotary drum.
After drying, most of the dry material will be discharged through the belt conveyor, the left material will go into the cyclone dust collector,
where the dust will be collected, with the function of induced draft fan, the left material will discharged through the conveyor.
Why Choose Our Rotary Drum Dryer?
1. Customized Solution. According to the properties of different coal slurry to change the operating parameters.
2. Special internal structure, eliminating the adhesion phenomenon of the inner wall.
3. Multiple Heating Source. Customers can choose the heating source according their situation, we can design the customized solutions.
4. Designed Inner Structure For Sawdust Material. High drying efficiency to 90-95%.
5. The system is equipped with PLC system and video monitoring system, with a high degree of automation and simple operation.
6. HighThe system has a unique sealing structure, no thermal energy leakage.
7. Low investment, low operating cost, and short investment recovery time.
8. Provide Accessory Parts. Accessory parts quality assured.
Rotary Drum Dryer Plant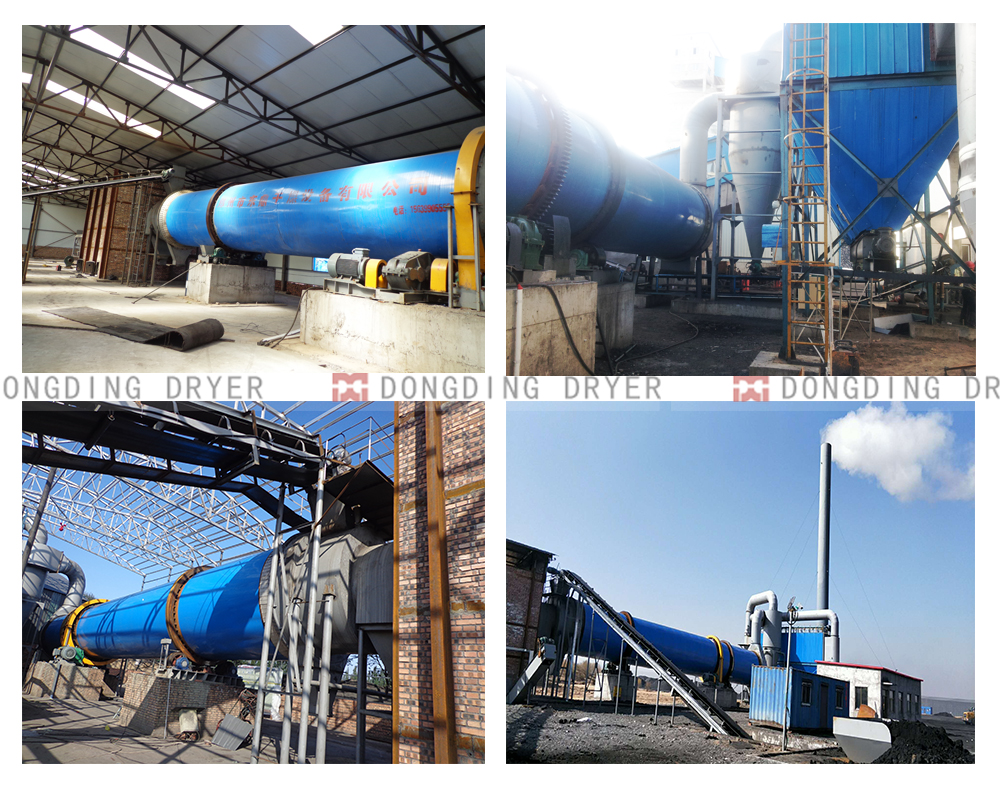 Industrial Rotary Dryer Technical Parameter
| | | | | | |
| --- | --- | --- | --- | --- | --- |
| Model | Capacity(T/h) | Length (m) | Diameter (m) | Temperature(℃) | Motor Power(kw) |
| DD1208 | 1.9-2.4 | 8 | 1.2 | 600-750 | 7.5 |
| DD1210 | 2.4-3.0 | 10 | 1.2 | 600-750 | 7.5 |
| DD1612 | 4.5-5.7 | 12 | 1.6 | 600-750 | 15 |
| DD1812 | 6.5-8.1 | 12 | 1.8 | 600-750 | 18.5 |
| DD2212 | 9.7-12.2 | 12 | 2.2 | 600-750 | 22 |
| DD2418 | 17.4-21.7 | 18 | 2.4 | 600-750 | 37 |
| DD2420 | 19.3-24.1 | 20 | 2.4 | 600-750 | 45 |
| DD2624 | 27.2-34.0 | 24 | 2.6 | 600-750 | 55 |
| DD3020 | 30.1-37.7 | 20 | 3.0 | 600-750 | 75 |
| DD3225 | 42.9-53.6 | 25 | 3.2 | 600-750 | 90 |
| DD3628 | 60.8-76.0 | 28 | 3.6 | 600-750 | 160 |