Nickle Ore Rotary Dryer Overview
Nickel Ore Single Pass Rotary Dryer Introduction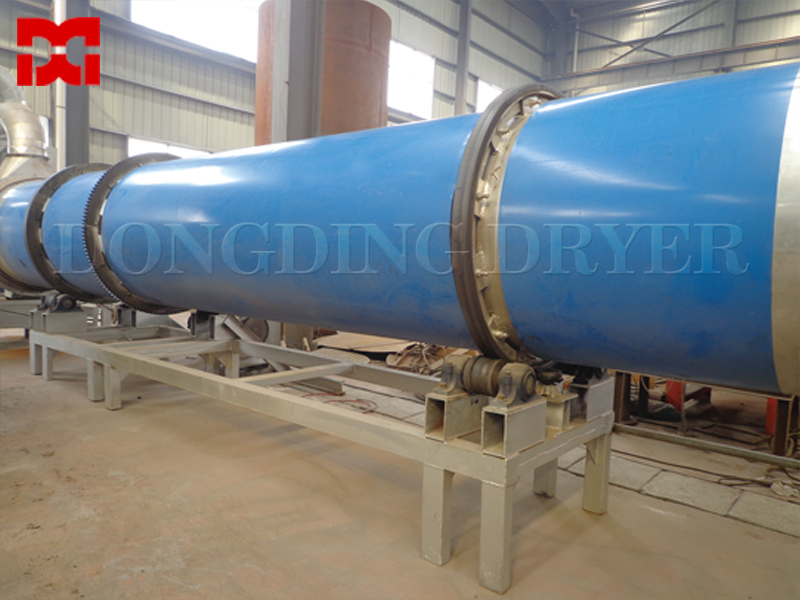 Nickel is a very important metal in stainless steel, smelting nickel iron through red earth nickel ore can replace expensive nickel plate. Red soil nickel ore is particularly large in water content, generally contains about 35% of free water, 12% to 15% of crystalline water and other compounds of the burn loss. According to nickel ore' characteristics of high moisture, complex composition, stickiness and large-scale clumps, Dongding researches and manufactures the nickel ore rotary dryer system, whose capacity up to 400 tons per day. After treatment of the nickel ore, final moisture is about 10%, which achieves the next and large-scale processing requirements.
Working Principle
Single drum rotary dryer in which heated gas and a moist material is blown through a rotating drum. The drum has inwardly extending flights or vanes which deflect particles of the material back into the gas flow. A flight is oriented at an oblique angle to the longitudinal axis of the drum in order to make the material after drying move out from another side.
Features
1.High mechanization degree, big production capacity, can continuous operating.
2.Running smoothly, easy to operate.
3.Low failure rate, low maintenance cost, low power consumption
4.Wide range of application,drying effect is good.
Technical Parameter
Model

DDGT1210

DDGT1412

DDGT1615

DDGT1918

DDGT2218

DDGT2520

DDGT2925

Capacity(t/d)

20-45

25-65

40-90

50-125

70-220

90-320

110-400

Water Evaporation (t/h)

0.565

0.792

1.130

1.61

2.20

3.25

4.10

Initial Moisture(%)

35-40%

35-45%

Final Moisture(%)

10-12%

10-12%

Drying Temperature(℃)

270±30℃

320±30℃

Total Power(kw)

28-33

34-40

45-60

51-75

60-90

95-125

110-155

Floor Area(m2)

5m×15m

5m×18m

6m×22m

7m×25m

8m×30m

10m×35m

10m×40m
If you want to know more about Nickle Ore Rotary Dryer, please leave a message or send an email to Dongding@zzddjt.com