Alfalfa rotary dryer Overview
Alfalfa Rotary Dryer Introduction

Alfalfa has high nutritional value and is suitable for animal feed. However, the water content of alfalfa is extremely high and it is not suitable for storage. The triple pass rotary drum dryer is a new type of drying equipment that for drying alfalfa. It can dry the alfalfa with the moisture from 65-50% to 15-10% at one time. And it also reduces the floor space of dryer, improve the efficiency of the drying process.
If the moisture content of the alfalfa is higher than 75%-80%, the screw dehydrator will be needed to reduce the moisture content to 65-50%, and the crushed alfalfa size should be less than 5-10cm. Finally going into the drying process, the final moisture after drying can reach 10%.
we can provide alfalfa dryer plant, which includes heating part, feeding machine, crushing machine, rotary dryer, discharging machine and cyclone dust collector. We can also offer the full Drying and Pelleting Plant in order to make a one-stop solution for our customers.
Alfalfa Rotary Dryer System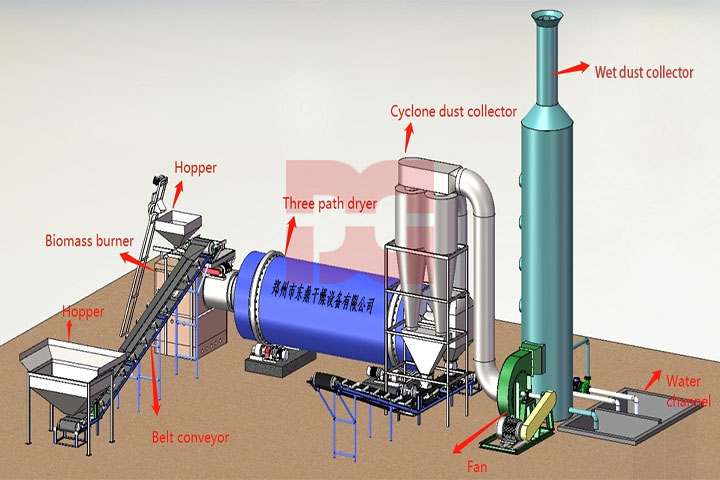 Advantages of Alfalfa Rotary Dryer
1.Compared with the single pass rotary drum dryer, the length of the triple pass rotary drum is shortened by 50%, reducing the building area and power consumption is reduced by 60%, saving about 40% project investment.
2. The system has good sealing performance and is equipped with a complete dust removal device to prevent dust spillage.
3. The entire alfalfa drying system adopts centralized electrical control, with high automation and easy operation.
4. It can be equipped with follow-up sections such as crushing, mixing, granulating, baling, briquetting, etc. To improve the deep processing level of alfalfa.
5.the final product: the green color and the nutrients of the alfalfa are remained, and have the good taste, which not only enhances the appetite of livestock, but also improves the economic benefits.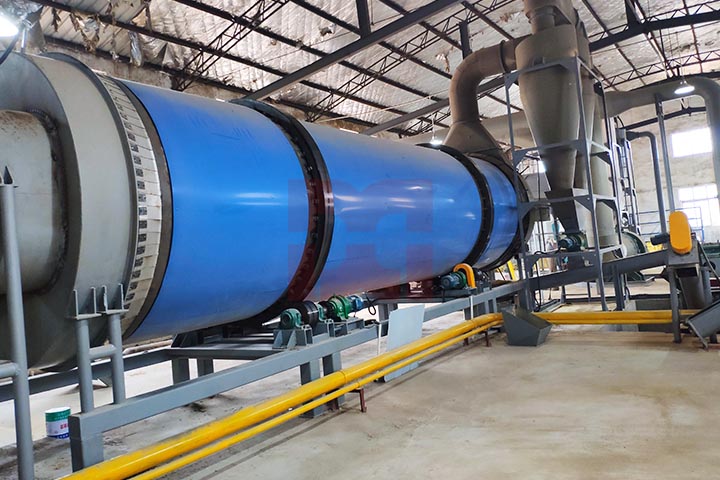 Alfalfa Rotary Dryer Parameter
Device Specification

DDJG1210

DDJG1410

DDJG1610

DDJG2010/3

DDJG2210/3

DDJG2510/3

DDJG2512/3

DDJG2912/3

Daily Processing Capacity(t/d)

33.6

40.8

58.9

131.4

145.0

167.7

204.0

247.0

Daily Output(t/d)

15.6

19.2

27.7

61.8

68.2

78.9

96.0

116.2

Water Evaporation Capacity (t/h)

0.75

0.90

1.30

2.90

3.20

3.70

4.50

5.45

Raw Material Water Content(%)

60±5%

Dried Material Water Content(%)

12-15%(adjustable)

Drying Temperature (℃)

350-550℃

Total Weight(kg)

32

40

55

95

100

125

145

165

Plant Area(m2)

15000

17000

21500

26500

28500

370000

41000

45500

Device Specification

5m*14m

5m*14m

6m*16m

8m*16m

8m*16m

10m*16m

10m*18m

10m*20m
If you want to know more about Alfalfa rotary dryer, please leave a message or send an email to Dongding@zzddjt.com