Wood Chips Dryer Overview
Wood Chips Rotary Drum Dryer Introduction

Dongding three layers wood chips rotary dryer is desinged for drying

wood chips, sawdust and wood shavings, wood powder, etc,

to improve its thermal efficiency and protect environment.
It can dry the wood waste with the moisture from 65-50% to 15-10% at one time. And it also reduces the floor space of dryer, improve the efficiency of the drying process.

we can provide wood chips dryer plant, which includes heating part, feeding machine, crushing machine, rotary dryer, discharging machine and cyclone dust collector. We can also offer the full Drying and Pelleting Plant in order to make a one-stop solution for our customers.
Dongding is professional wood chip dryer manufacturer, has got popular at home and abroad.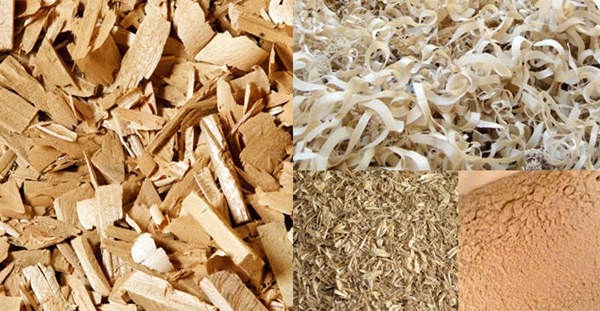 Wood Chips Rotary Drum Dryer System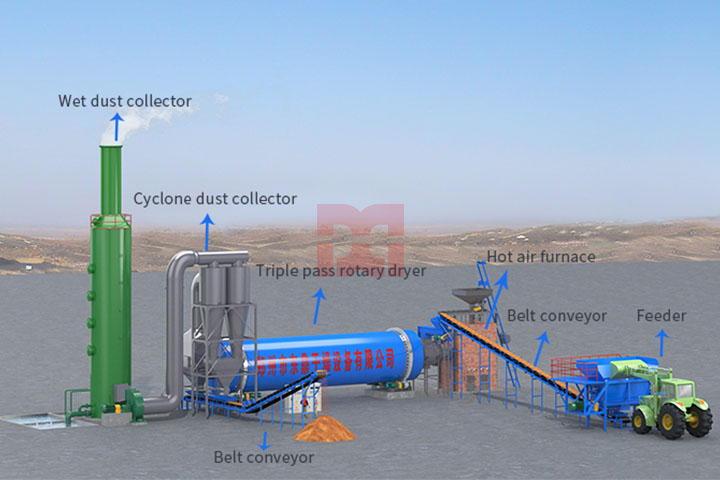 Wood Chips Rotary Drum Dryer Working Principle

The wet material will be convey into inner layer with hot air first, then go to second layer and outer layer until it exhaust with hot air.
At same time the hot air and raw material will make hot exchange.The inside angle plate is designed to scatter wet wood or power to make more hot exchange.

Wood Chips Dryer Advantages
1.Compared with the single pass dryer, the triple pass rotary dryer is shortened by 50%, reducing the building area and saving about 40% project investment.
2. Multiple Heating Source. Customers can choose the heating source according their situation, we can design the customized solutions.
3. Designed Inner Structure For Sawdust Material. High drying efficiency to 90-95%.
4. The system is equipped with PLC system and video monitoring system, with a high degree of automation and simple operation.
5. HighThe system has a unique sealing structure, no thermal energy leakage.
6. Low investment, low operating cost, and short investment recovery time.
7. Use the best quality parts, make sure the safe and reliable operation.

What we can assure our client?

1, Fully technology support, free factory design and reasonable drying plant layout.
2,1 year guarantee.
3,100% carry out as contract.
4, We can send engineer to oversea to install at site.
5, Reasonable price and use good raw materials.
Parts of Sawdust Rotary Dryer Site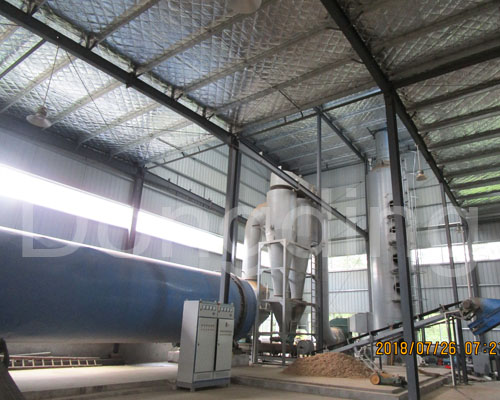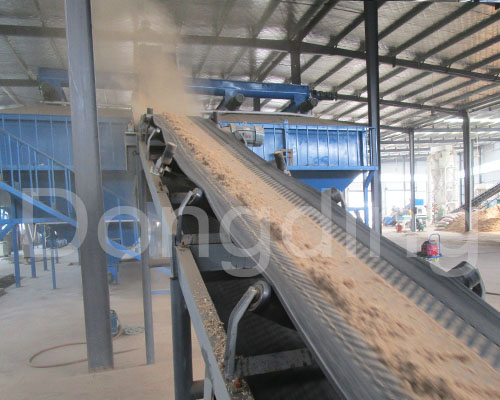 Wood Chips Dryer Technical Parameter
Model

DDSG2010/3

DDSG2210/3

DDSG2510/3

DDSG2512/3

DDSG2912/3

Output Capacity(t/d)

63.5-144.5

67.5-154.0

83.5-193.0

100-227.0

120.0-268.0

Vaporization(t/h)

1.850

1.976

2.427

2.912

3.432

Early moisture(%)

35-60%

35-60%

35-60%

35-60%

35-60%

Final moisture(%)

12-15%

12-15%

12-15%

12-15%

12-15%

Drying
temperature

270℃±3

270℃±3

270℃±3

270℃±3

270℃±3

Total motor power(kw)

78

85

110

125

135

Total weight(kg)

25000

27000

35000

38000

43500

Plant area(m)

8m*18m

10m*18m

10m*18m

10m*20m

10m*20m
Except above models, we also can supply special model according to your requirements
If you want to know more about Wood Chips Dryer, please leave a message or send an email to Dongding@zzddjt.com