Pomace Dryer Introduction
The
fruit residue dryer
(also called
pomace dryer
) c
an quickly dry the wet fruit residue with a moisture of 80% to a dried product with a moisture less than 13%. The unit use heating source as energy, hot air as the drying medium, and strong hot air to heat various wet materials. Due to the characteristics of high moisture content, high sugar content and easy adhesion of fruit residue, a series of unique technologies and processes were adopted to solve various technical problems in the drying process of fruit residue, and good drying effect has been achieved.
Pomace Dryer System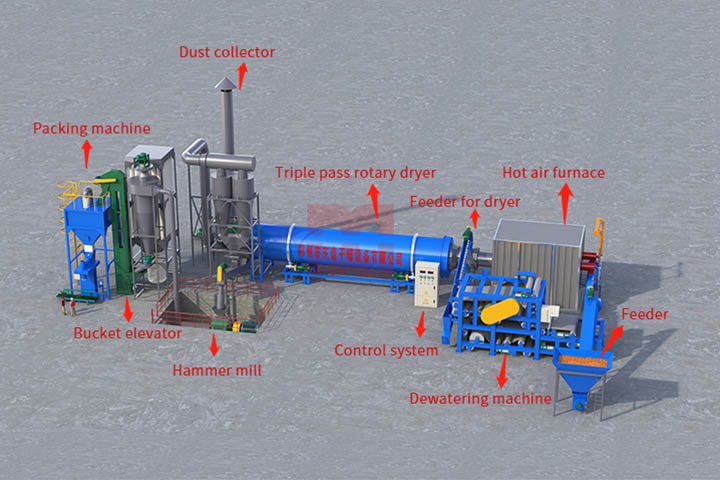 Pomace Dryer
Applications
Dongding Rotary Dryer has a wide applications. It is suitable for drying

olive pomace

,
apple residue , pineapple residue , citrus residue, tangerine peel

,
tomato pomace, etc.
It can also used to dry
brewery spent grain
,
sugarcane bagasse
, cassava residue, etc
1.Compared with the single-drum dryer, the length of the three-layer Drum Dryer
is shorten
ed by 50%, which is advantageous to the process layout, reducing the building area and saving about 40% project investment.
2. The hot air stove can be equipped with boiling furnace, spray coal stove, hand-fired stove, biomass fuel hot air stove, also used for fuel, gas stove, can bake a block of less than 20mm, granular material, powder, slurry-like materials.
3.The equipment has large processing capacity, strong anti-overload capability, low energy consumption, and can directly reduce the drying cost;
4. The use of co-current, counter-current, mixed flow and other drying technology, greatly improving the thermal efficiency;
6. Use frequency conversion to control material flow, which can be easily adjusted according to the needs of users.
7. Multiple choice for heating source.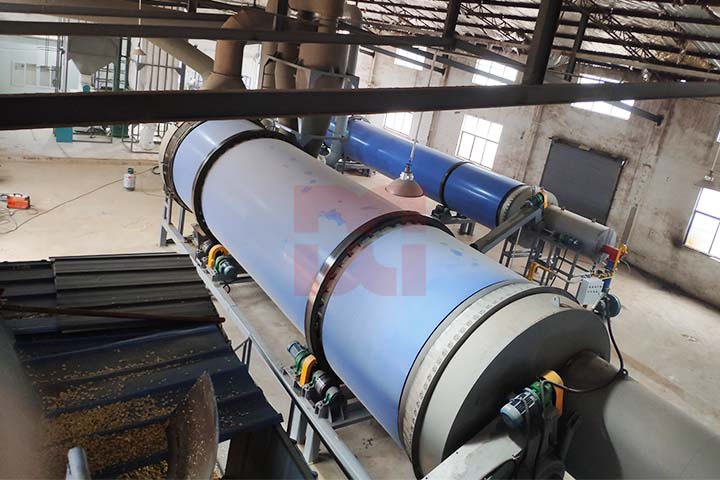 Pomace Dryer
Parameter
Device Specification

DDJG1210

DDJG1410

DDJG1610

DDJG2010/3

DDJG2210/3

DDJG2510/3

DDJG2512/3

DDJG2912/3

Daily Processing Capacity(t/d)

33.6

40.8

58.9

131.4

145.0

167.7

204.0

247.0

Daily Output(t/d)

15.6

19.2

27.7

61.8

68.2

78.9

96.0

116.2

Water Evaporation Capacity (t/h)

0.75

0.90

1.30

2.90

3.20

3.70

4.50

5.45

Raw Material Water Content(%)

60±5%

Dried Material Water Content(%)

12-15%(adjustable)

Drying Temperature (℃)

350-550℃

Total Weight(kg)

32

40

55

95

100

125

145

165

Plant Area(m2)

15000

17000

21500

26500

28500

370000

41000

45500

Device Specification

5m*14m

5m*14m

6m*16m

8m*16m

8m*16m

10m*16m

10m*18m

10m*20m
Except above models, we also can supply special model according to your requirements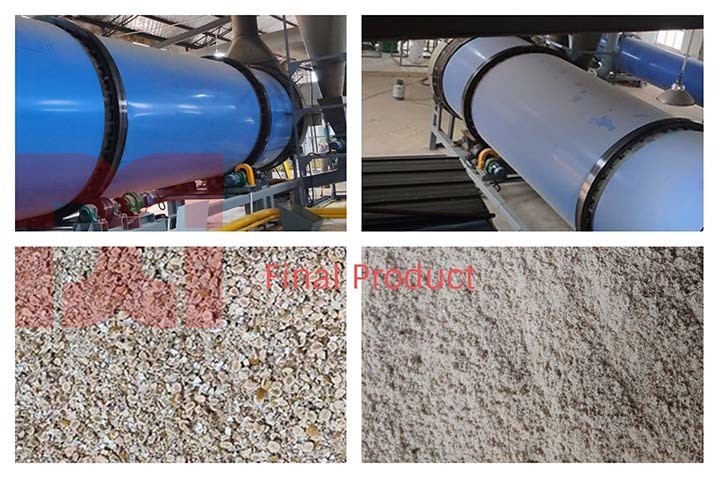 If you want to know more about Pomace Dryer, please leave a message or send an email to Dongding@zzddjt.com