Yeast dryer ( also called scraper drum dryer
)
uses indirect conduction heating to heat the material and vaporize the water by using steam heating. It is especially suitable for the recycling of brewery yeast.
The core technology is temperature control, which avoids killing the beneficial components in yeast.
This yeast dryer drying cylinder using high-grade iron manufacturing, with anti-corrosion, non-pollution and other characteristics.
The main factors affecting the yeast dryer can be divided into:
(1) Steam pressure (0.1-0.4Mpa) or heating medium temperature;
(3) Film thickness (that is, the thickness of the material attached to the surface of the dryer)
(4) Material characteristics (such as solids content, fluidity and temperature, etc.)
Yeast Dryer System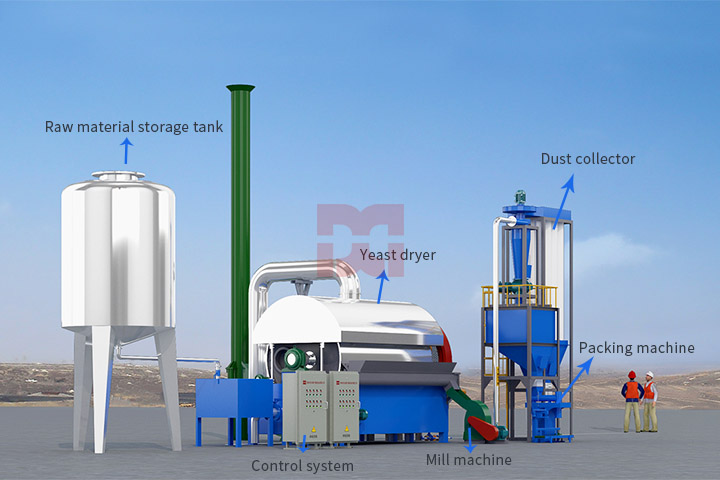 Yeast Dryer Working Principle
Dongding yeast dryer uses steam as a heat source.
First of all, the yeast raw materials to be dried into the preheating tank, preheating to about 50℃;
then by the feed pump into the lower part of the dryer tank, the dryer immersed in about 60-80mm, into the steam pressure is 0.15-0.3Mpa,
dried materials is scraped off and then landed at the outlet for collection. The drying degree of the material is controlled by adjusting the pressure of the steam and the speed of the dryer.
The condensate in the dryer is discharged from the condensate outlet device.
►Why Choose Dongding Yeast Dryer
1. The technical design of dryer equipment takes full account of the thermal sensitivity of yeast, keeping the activities of yeast.
2. The contact parts of equipment and material using high-standard cast iron manufacturing, with anti-corrosion, non-polluting.
3. Conduction heating, minimum heat loss , high thermal utilization, less energy consumption.
4. Compact structure, small floor surface, simple operation and maintenance.
5. Wide Applications. Yeast dryer machine is also suitable for drying sludge materials in food, chemical, pharmaceutical and other industries.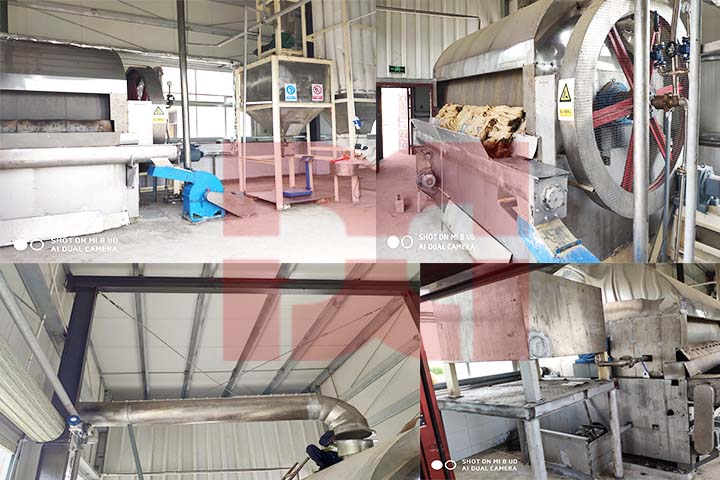 Hot Sale In Europe Food Factory Stainless Steel Yeast Drum Dryer Application :

This dryer is suitable for drying liquid raw material or sticky material in chemical industry, dyestuff industry, pharmaceutical industry, foodstuff industry, and metallurgy industry, and etc.

Yeast Dryer Technical Parameter
| | | | | | | | | | | | | |
| --- | --- | --- | --- | --- | --- | --- | --- | --- | --- | --- | --- | --- |
| Model | JHD1000×1500 | JHD1500×2000 | JHD1500×2500 | JHD2000×2000 | JHD2000×2500 | JHD2000×3000 | JHD2000×3500 | JHD2500×2000 | JHD2500×2500 | JHD2500×3500 | JHD2500×4000 | JHD3000×4000 |
| Capacity(kg/h) | 16-20 | 25-30 | 40-55 | 50-65 | 60-80 | 70-100 | 90-120 | 70-90 | 90-125 | 100-150 | 120-180 | 150-250 |
| Drum siza (mm) | Φ 1000×1500 | Φ 1500×2000 | Φ 1500×2500 | Φ 2000×2000 | Φ 2000×2500 | Φ 2000×3000 | Φ 2000×3500 | Φ 2500×2000 | Φ 2500×2500 | Φ 2500×3500 | Φ 2500×4000 | Φ 3000×2500 |
| Rotation speed (r/min) | 4-8 | 4-8 | 4-8 | 4-8 | 4-8 | 4-8 | 4-8 | 4-8 | 4-8 | 4-8 | 4-8 | 4-8 |
| Steam working pressure (Mpa) | 0.15-0.3 | 0.15-0.3 | 0.15-0.3 | 0.15-0.3 | 0.15-0.3 | 0.3-0.5 | 0.3-0.5 | 0.3-0.5 | 0.3-0.5 | 0.3-0.5 | 0.3-0.8 | 0.3-0.8 |
| Big pressure of steam (Mpa) | 0.3 | 0.3 | 0.3 | 0.3 | 0.3 | 0.4 | 0.5 | 0.5 | 0.5 | 0.5 | 0.8 | 0.8 |
| Steam consumption (kg/h) | 130-160 | 170-210 | 280-370 | 320-390 | 360-480 | 370-500 | 380-520 | 350-460 | 370-500 | 380-550 | 400-600 | 450-800 |
| Main motor power (kw) | 4 | 5.5 | 7.5 | 11 | 15 | 18.5 | 22 | 15 | 22 | 30 | 37 | 45 |
| Total weight (T) | 4.5 | 6.0 | 8.5 | 10.7 | 12.2 | 13.5 | 15.0 | 12.5 | 14.5 | 17.0 | 21.0 | 25.0 |
Yeast Dryer Site Center