Bagasse Rotary Dryer Introduction

Bagasse refers to sugarcane granular waste left after crushing and pressing. Fresh bagasse is in irregular loose particles, low density, poor combustion characteristics, inconvenient to transport, storage and use.
Bagasse contains a lot of protein, rich cellulose, various amino acids and nutrients.
After drying

, it can be used as

animal feed

.
It can also used as

biofuel

for it's considerable calorific value, mostly in sugar mill plant. I
t can be used for

papermaking

.
And it can be carbonized to make

activated carbon

in wastewater treatment.
The density, durability, combustion characteristics of bagasse will be improved after drying, and it will be easier to transport and storage.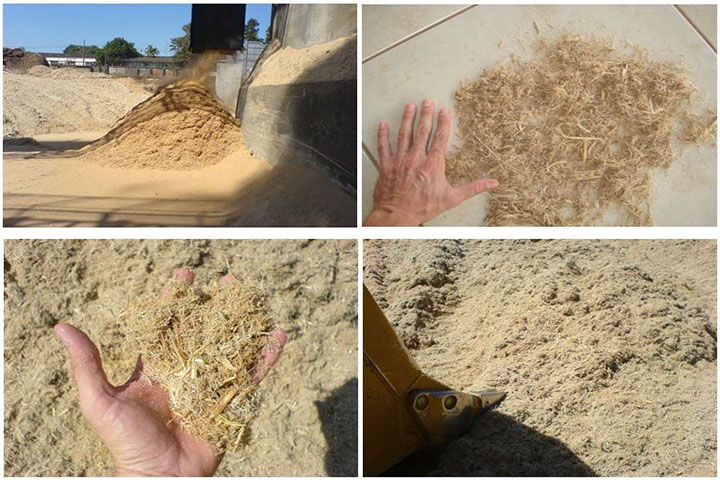 Bagasse Dryer Production Line
consists of heat source, feeder, sugarcane bagasse dryer, discharge machine, induced draft fan, unloader and power distribution cabinet, smashing system, packing system and other components. We can provides various models of sugarcane bagasse dryer and can also make a customized solution according to the needs of our customers.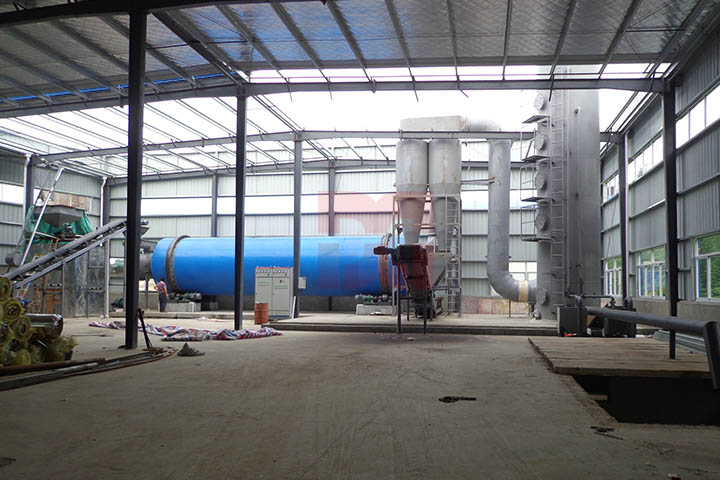 Sugarcane bagasse rotary Dryer Working Principle
After a certain degree of dehydration and scattering, bagasse enters into the drying roller through the material feeder. Under the stirring of the lifting plates and shoveling plates that distribute evenly inside the roller, the sugar cane bagasse scatter evenly and contacts with hot air sufficiently in the drying area. This speeds up the drying heat transfer and mass transfer. Wet air is pumped by air-inducing device, which avoids material from being wet again.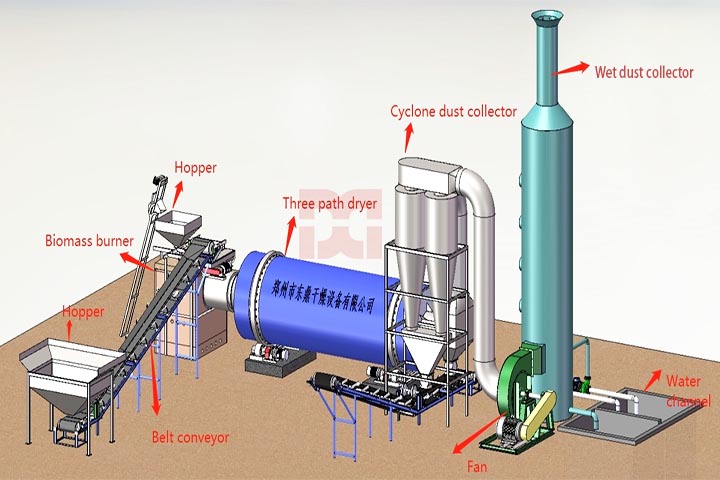 Bagasse Dryer Machine Advantages

1. The three-layer drum of the bagasse dryer has a good self-heating effect, which greatly reduces heat loss; the thermal efficiency can reach 80%.

2. The floor space of the three-layer bagasse dryer is smaller than the traditional dryer, reduces the floor area and saves about 40% of the project investment. 50% saving in power consumption;
3. It has high mechanization degree, high production capacity and continuous operation.
4. The material feeding speed is controlled by frequency conversion speed regulation, which can easily adjust the required final moisture according to user needs.

5. Bagasse dryer can use various heat sources, such as hand-fired hot air stove, oil-fired boiler in large power plant, direct or indirect hot air stove, gas, fuel oil, coal-fired stove, etc.It is convenient for users to choose according to their actual situation.

Bagasse Three-layer Rotary Drum Dryer Technical Parameter

| | | | | | |
| --- | --- | --- | --- | --- | --- |
| Specification | Capacity (T/D) | Initial Moisture (%) | Final Moisture (%) | Total Power (kw) | Floor Area (m2) |
| DDSG2010/3 | 62.5 | 60±5 | ≤12 | 78 | 8m*18m |
| DDSG2010/3 | 70.5 | 60±5 | ≤12 | 85 | 8m*18m |
| DDSG2010/3 | 83.5 | 60±5 | ≤12 | 110 | 10m*18m |
| DDSG2010/3 | 108.0 | 60±5 | ≤12 | 125 | 10m*22m |
| DDSG2010/3 | 120.0 | 60±5 | ≤12 | 135 | 10m*25m |
| DDSG2010/3 | 150.0 | 60±5 | ≤12 | 160 | 10m*30m |
We can also provide customized models according your needs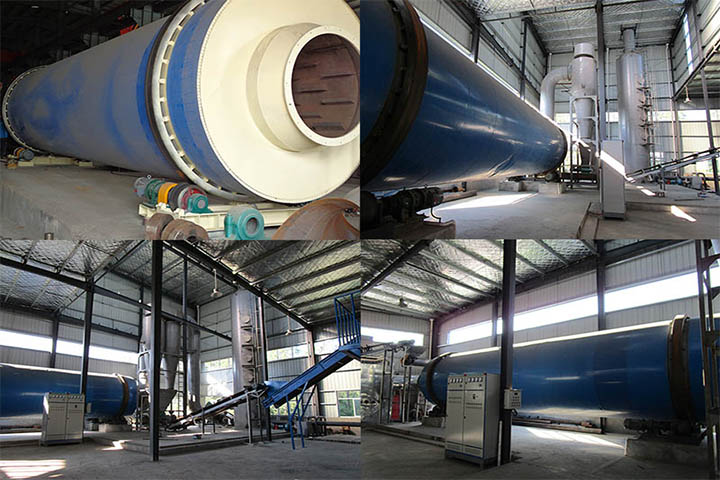 If you want to know more about Bagasse Dryer, please leave a message or send an email to Dongding@zzddjt.com