Introduction
The biomass pellet production line including the process of crushing, drying, de-ashing and high-pressure molding, After being processed, the biomass pellet could approach the moisture of 8 to 10%, the combustion heat of 4000-4800 kilo calories per kilo gram, and ash content of 1% or less. The biomass production line can also process the alfalfa to make feed pellet.
We have biomass pellet production line with different capacity for example 500kg/h, 1t/h, 1.5t/h, 2t/h, 3t/h, 4-5t/h., etc. The final pellet can be 6mm,8mm, 10
mm, 12mm, etc.
Application
The biomass pellet production line can used for wood chips, sawdust, bamboo shavings, wood shavings, wood shavings, barley straw, oat straw, wheat straw, rye, straw, rice straw, sorghum straw, stalk and corn straw, and potato vines, etc.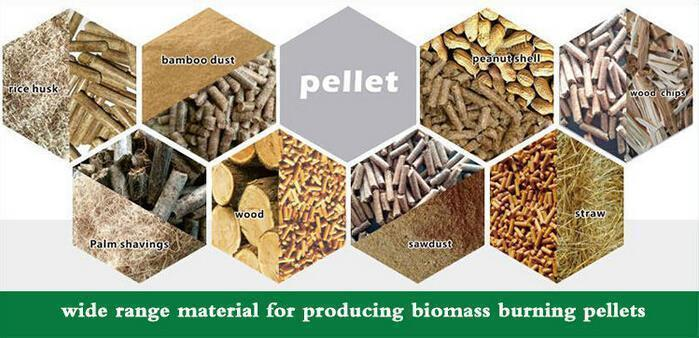 Biomass Pellet Production Line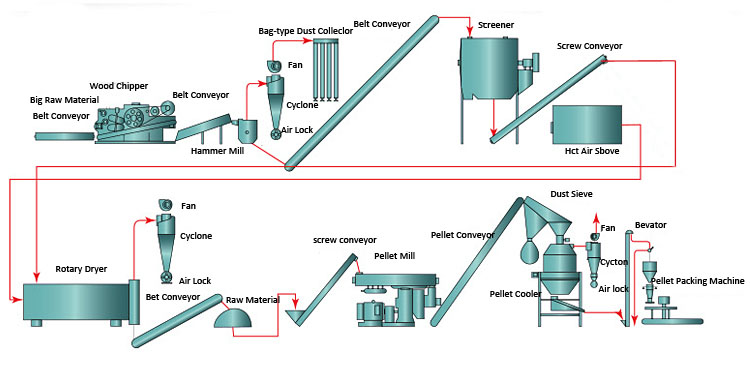 1. Crushing and broken system. If the raw material is the log, straw, leftover material and something bigger, needed to crush raw materials before pelleting.
2. Drying system. In general, the material with the moisture of 15-20% is suitable for granulating If more than 20%, needed to dry before granulating.
3. Granulating system. The final moisture of the pellet meets the safe store requirements of the pellet.
4. Cooling screening system. Biomass pellet after cooling screening machine go through belt conveyor into cooling sieve.
5. Packaging system. Send the biomass pellet into in packaging machine.
The Display of Main Equipment