Straw dryer is widely used for drying corn straw, soybean straw, cotton straw, wheat straw, sorghum straw, forage, ginkgo leaf, mulberry leaf and other agricultural cellulose materials. For small capacity need, it can be met by the single path rotary drum dryer; for large capacity, the three (triple) pass rotary drum dryer is recommended. The large-scale straw dryer is with the advantage of high drying speed, automatic control, stable and reliable operation.
Our company can also provide straw crushing and straw forming machine or straw pelleting system according to customers' needs in order to make a one-stop solution for our customers.
Straw Dryer System
Exampled as three path dryer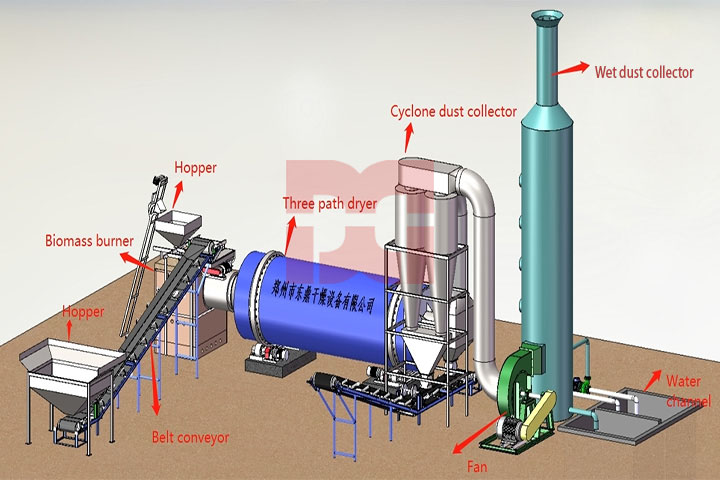 Straw Dryer Working Principle
Firstly, straw (crushed if needed)is transported to the rotary drum dryer by the belt conveyor. Material moves to the end of dryer body, during which process wet material gets fully contact with the hot air. After drying, most of the dry material is discharged through the belt conveyor. The left material mixed with dust goes into the cyclone dust collector and the bag dust collector in sequence, where the dust will be collected. Lastly, with the function of induced draft fan, the left material will discharged through the conveyor.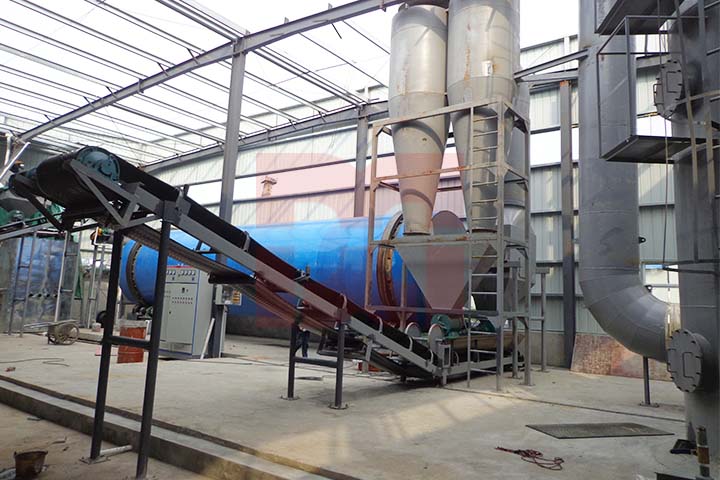 1. Designed inner structure for straw. High drying efficiency to 90-95%;
2. The system is equipped with PLC system and video monitoring system, with a high degree of automation and simple operation;
3. The system has a unique sealing structure, no thermal energy leakage;
4. Automatically remove impurities and iron to ensure that impurities do not enter the following drying process;
5.
Multiple Heating Sources. Customers can choose the heating source according their situation, we can make the customized solutions.