Sludge Rotary Dryer Overview
Sludge Rotary Dryer Introduction
Dongding Sludge Rotary Drying System is suitable for drying various kinds of sludge with high viscosity.
The wet sludge with water content of about 85% can be dehydrated and dried into dry powder with water content less than 10%.
The sludge drying system operates under negative pressure and is equipped with enhanced heat transfer device for direct heat transfer.
For the heating source, Dongding sludge rotary drying system can use the boiler exhaust gas as the heat source of the sludge dryer,
which greatly reduces the production cost and has no secondary pollution and other advantages.
In addtion, the mutiple heating choices includes biomass pellets, electricity, fossile fuel, coal,etc.
The sludge dryer system can be applied to the drying of activated sludge, sewage sludge, petrochemical sludge, papermaking sludge, printing and dyeing sludge,tanning sludge, electroplating sludge, municipal sludge, biological fermentation sludge, etc.
In addition, it is also applied to coal sludge drying, coal slurry drying, etc.
Sludge Rotary Dryer Working Priciple

Sludge drying syetem consists of the dehydrator machine, feeding machine, sludge rotary drum dryer, discharging machine, induced draft fan, cyclone dust collector and distribution cabinet.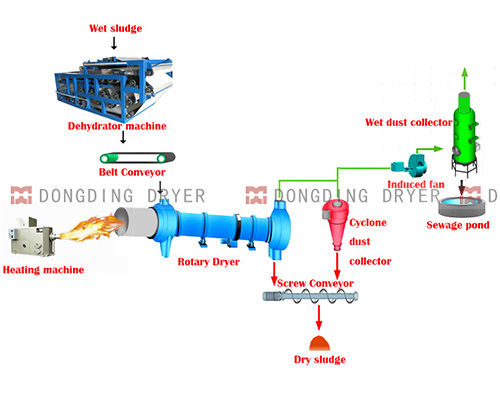 Firstly, high moisture sludge is dewatered by the dehudrator machine, then transported to the rotary drum dryer by the belt conveyor,
where it fully contact of the hot air, because of the inclination of drum dryer, material with hot air moves to the end of dryer body.
After drying, most of the dry material will be discharged through the belt conveyor, the left material will go into the cyclone dust collector, where the dust will be collected,
with the function of induced draft fan, the left material will discharged through the conveyor.
Dongding Sludge Rotary Dryer Features

■ Large moisture reduction, sludge with an initial moisture content of 82% can be dried down to12%;
■ High capacity, daily drying capacity of sludge is between 50t~500t;
■ Stable operation and even processing under high temperature conditions;
■ Automatic control, easy operation;
■ Multiple heating source choices, accoding to customers' situation to choose.
Sludge Rotary Dryer Parameter
Model
DDSG1618
DDSG1818
DDSG2022
DDSG2224
DDSG2522
Capacity (t/h)
3-5
5-7
7-10
10-15
15-20
Length (m)
18
18
22
24
22
Diameter (m)
1.6
1.8
2.0
2.2
2.5
Final Moisture (%)
10
Total Power (KW)
57
60.5
80
95
108.5
Product Pics